Welcome to the
Rotary Club of Bishop's Waltham
Rotary is a worldwide organisation of people from all walks of life that provide humanitarian service, encourages high ethical standards in all vocations, and helps build goodwill and peace in the world.
Approximately 1.2 million Rotarians
belong to more than 31,000 Rotary Clubs located
in 194 countries and regions. The world's Rotary clubs meet weekly and are nonpolitical, non religious,
and open to all cultures, races, and creeds.The Rotary Club of Bishops Waltham is just one cog
in the larger wheel of Rotary International.
Carnival - Please see separate menu item on the left for general information.
For those wishing to enter the Photographic Competition the terms and conditions are shown below:
BISHOP'S WALTHAM ROTARY, CARNIVAL PHOTOGRAPHIC COMPETITION.
Terms and Conditions

Age Groups Size
Up to 11 years A4 or A5
12 to 18 A4 or A5
Adult A4
Seniors (above 60) A4
Photos can be in black and white or colour and not mounted but must have been taken by the entrant
Each print must bear on the reverse name, age, address and telephone number of the entrant as well
as the title of the print. Maximum of 2 entries per person.
Get your photos to Bishop's Estate Agents, High St. Bishop's Waltham
Closing date for last entry: 31st May 2017.
All entries will be presented to the judge in random order in each age group. The judge's choice is final.
The overall winner, age group winners and runners-up will be displayed at the Rotary tent on the day.
Prize giving will take place at approx.15.00hrs at the Rotary tent.
All winners will be contacted prior to the Carnival and hope they will all attend to collect your prizes.
Bishop's Waltham Rotary Club (BWRC) reserve the right to use winners' photographs for future publicity.
All submitted photos can be collected after 16.00hrs from the Rotary tent at the Hoe Road recreation ground, Bishops Waltham on 10th June or enclose a stamped address envelope for returns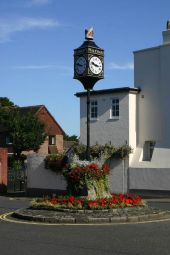 If you have some time to spare why not join us?