The Rotary Club of Bishops Waltham(BW) was first chartered in 1989. The club currently has 28 members drawn from various walks of life, and from BW, Waltham Chase, Swanmore, Shirrell Heath, Wickham, Upham, Durley, Fair Oak, and surrounding areas. The Club is fully inclusive and open to new members.

BW Rotary is part of the world-wide organisation of Rotary International with some 33,000 clubs in 200 countries around the world and a total membership in excess of 1.2 million.
We hold our meetings normally on the 2nd and 4th Thursday evenings at The Wickham Golf Club,
Follow this link to view a video of what we have and are doing
Meetings are arranged as follows:
First and third Thursdays in the month are short informal social togethers starting at 7.30 P.M. at various locations, currently the Robin Hood at Durley.
The second and fourth Thursdays where the Clubís business matters are discussed along with planning for events and we have a snack meal, this is currently at Wickham Golf Club
When there is a fifth Thursday in the month, this is devoted to a social event by members and their partners usually away from our regular meeting locations.
The business of the Club is managed and regulated by the Club Council along with various committees. In the past the Club has donated around £20,000 each year to local, national and international charitable causes.
We are twinned with the Rotary Club of Nantes Jules Verne in France, and they visit us or we visit them every two years.
If you would like to join us either as a visiting Rotarian or you are interested in possibly joining us and would like find out more, please contact us via the visitors page on this website by clicking here or via the 'contact us' from the dropdown above.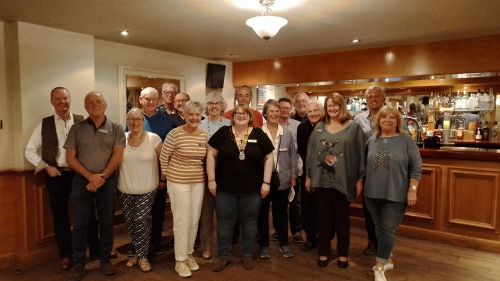 A light-hearted evening during one of our meetings at East Horton

Our major fund-raising events are: Carnival
The annual BW Carnival and show which, includes a motorcade through the streets and arena music and events: a full afternoon of fun activities for the local community. Click Here

Christmas
At Christmas, whatever the weather, well almost, we take Roger the engine and Santa around the local streets, broadcasting carols. Locals always say that Christmas hasnít arrived until the BW Rotary carols are heard. Click Here
Fashion Show
which first took place a couple of years ago in now firmly on the calendar, this year 2020 on March the 26th Click here
Other activities
These include the Tour of Legends a Classic Car tour, a Golf Day and www.yeomansyearbook.org.uk which is an on-line listing of Classic Vehicle Events with over 1000 Classic Vehicle events listed each year,