Welcome to the Rotary Club of Bishop's Waltham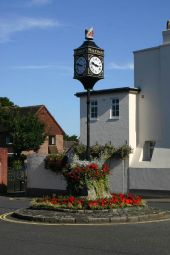 Rotary is a worldwide organisation of people from all walks of life that provide humanitarian service, encourages high ethical standards in all vocations, and helps build goodwill and peace in the world.
Bishop's Waltham Rotary is a local club that focuses on providing support to local needy causes. We regularly support a large number of local charities and clubs and there is a continuous need for funds to support charities and individuals in the local area.
We organise the annual Carnival, which provides a majot part of our funds for these local needs; we also take Roger the engine and Santa around the area at Christmas and people are very generous with their giving.
There is always a shortage of funds, and always a list of needy causes, if you would like to donate PLEASE click on the attached link above at the top of the page..
Charity Number 1032602 This is our 30th Year! Follow us on