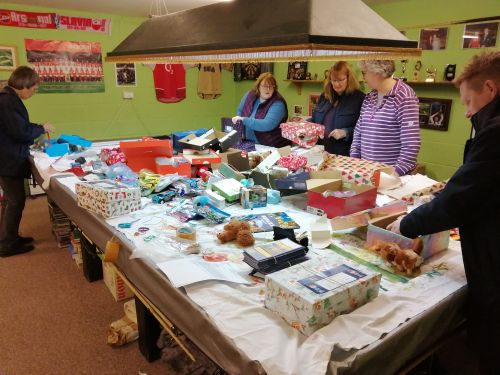 Checking cartons for banned items
The 2021 Shoebox appeal is completed for this year, with local schools taking part, also kind members of the public had taken leaflets to fill their Christmas Shoe Boxes.
If you would like to take part and fill a Shoe Box that will be sent to Children in Albania, Montenegro, Moldova, Romania or the Phillippines in time for Christmas,
contact us here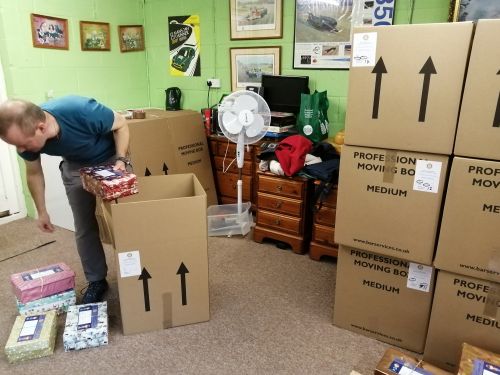 This year we collected 321 Christmas boxes from many sources including, to name a few; Swanmore Primary, Swanmore College, Waltham Chase, Pre-school and many from the public and members. These cartons will be delivered to a collecting warehouse at Bournemouth Airport for transport onwards.
.The boxes had to be shoebox sized, approx 30x18x15 centimeters which is the maximum size.
Ages 1-3, 4-7, 8-11 and 12-15 were catered for.
Last date for receiving boxes at Bishops Waltham was the 1st November.
Suggestions as to contents are, Hats, Gloves, small toys, games, pens, notebooks, tooth brush and toothpaste ( not liquid) Hair accesories, sports items or anything you can think of BUT it must not contain any of the below items!
These are items that they must not have contained....
Battery Powered items War related toys and items Large items of clothing Books of a Religious, Political or Racial Nature Liquids of any kind Sweets of any kind Medicines Large Toys Sharp Items
PS, If you would like to become involved in the project next year or join us at one of our meetings, please contact us. Click here
Pete Yeoman
---
Some of the boxes collected from various places including schools prior to packing in Large Cartons
Packed and ready for delivery 2019