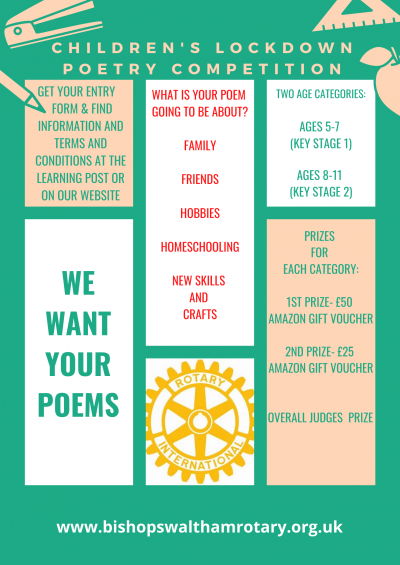 Bishop's Waltham Rotary Club News…August 2020
Children's Lockdown Poetry Competition
With all the changes going on in almost every aspect of our everyday life, we at Bishop's Waltham Rotary Club decided we needed to do something to recognise this and try something different. So, we have just launched our first ever Poetry Competition aimed at Primary School children in Key Stage 1 & 2. The subject of the poems is to be "Lockdown", we want to know what you got up to, what you missed, what was new, what new skills you learnt, how did you cope, what did you find hard, who helped you etc. The subject can be anything that children want to tell us about. We have a team of judges made up of, teachers and Rotarian's and we will be awarding first and second prizes for Key Stage 1 & 2, plus there will be a special judges prize for the entry that the judges feel deserves special recognition.
Fashion show in aid of The MS society
As many of you will know from previous updates we have many fund raising events planned throughout the normal year, but this year is far from what can be called normal and subsequently the majority of these events have had to be cancelled or postponed. One of those major events planned for this year was our Fashion Show unfortunately scheduled for March just as we went into lockdown. This event was already sold out and we subsequently offered a refund for all tickets sold. Amazingly many people came forward and were keen that the money they had spent on the ticket should be taken as a donation and given to the MS society as planned. We were overwhelmed by the numbers with this view and we are now able to donate around £2,000 to the MS society despite the Fashion Show not going ahead. We are extremely grateful to the generosity of those who donated their entry fee and we would like to reassure them that if possible we will plan another Fashion Show in the future.
Rotary Together talks
During lockdown with so many things being done at a distance via the internet etc. Rotary in Great Britain and Ireland have organised Tuesday evening talks on many subjects some of which need little introduction - Captain Tom : An inspiration to a country – to some less known, but equally inspirational stories - Keira gave me her heart and we changed UK organ donation law – The story of 10 year old Max Johnson's heart transplant, which changed the landscape of organ donation in the UK, from an opt in to an opt out system. These talks can be watched live on the Rotary YouTube Channel at 19.05 on a Tuesday evening or you can catch up with them later on YouTube.
Like our Facebook page or take a look at our website for the Poetry competition details, updates on what is going on, what we have been up to and how you can help us help others!
---
Bishop's Waltham Rotary Club News…July 2020
Well it's been a bit of a funny year so far hasn't it! Normally at this time of year we would be telling you all about our carnival and showing you pictures of everyone having a great time and dressing up in the theme of the day. Unfortunately like many events locally, nationally and internationally, cancellation has been the order of the day… We did manage however to keep the feeling of the Carnival going on the day with a steady stream of photographs being posted on our Facebook Page of previous carnivals and we are already looking forward to being able to bring you Bishop's Waltham Carnival 2021!
We have continued in the background raising what money we can without our big public fundraising events and also responding to several requests for assistance from Bishop's Waltham, Waltham Chase and Fair Oak, plus further afield.
Fair Oak junior school food bank
Bishops Waltham Rotary Club has a strong connection with Fair Oak visiting every Christmas with "Roger the Rotary Engine" and we are pleased to be able to assist the Fair Oak junior school in its efforts to support eligible families through its food bank. Despite depleted rotary charity funds due to the Covid19 pandemic Rotary has allocated an initial £450 towards this essential work.
Meet the new president, same as the old president
Also at this time of year we are usually introducing you to our new President with handover normally happening at the end of June, but due to things being curtailed part way through her year, Linda Treveil our President for 2019-2020 has agreed to extend her presidency to 18months and then our new president who would have come in for 2020-2021 will come in then for the next 18 months. Hopefully by then we will be back to some sense of normality.
Kinyasano Girls High School, Uganda
In the background we have had a long running project ongoing in Uganda in collaboration with Watsan, a UK charity, to bring improved sanitation to the Kinyasano Girls High School by providing new / improved bathing facilities, latrines for staff & pupils and hand washing facilities. This project has taken some time from concept to completion, but now we have got to the end of the road the results are excellent. We have received a warm letter of gratitude from their head teacher highlighting the quality of the work and the belief that they will last for many years to come.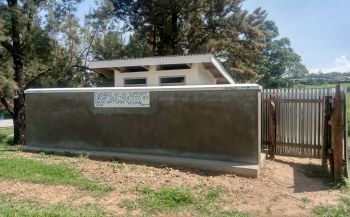 Lined Staff pit latrine with 2 stance and a urinal on the side of males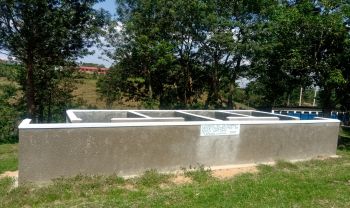 Bath shelter for students with 4 compartments, each accommodating 6-8 students at a go
Watch this space for the launch of our exciting new Poetry Competition for Primary School Aged Children.
Like our Facebook page or take a look at our website for the Poetry competition launch, updates on what is going on, what we have been up to and how you can help us help others!
ian.treveil@bishopswalthamrotary.org.uk