For information on Roger the engine and Christmas click here
Bishop's Waltham Rotary Club News…February 2021
Bishop's Waltham Food Bank
Over the last 2 years or more we have been supporting the Meon Valley Food Bank, on a monthly basis, providing them with food and sundries as necessary. The Meon Valley Food Bank was set up in 2015 and to date has helped over 3000 adults and children in what were already difficult times but are now even more so. They were set up to support the villages of the Meon Valley which include Bishops Waltham, Swanmore, Waltham Chase, Droxford, West Meon, Wickham and Knowle together with other villages in the surrounding area.

Bishop's Waltham Baby Bank
We were happy to be able to help the Meon Valley Baby Bank with funds towards setting up a permanent site in Bishop's Waltham. The Meon Valley Baby Bank is a new, church led organisation offering help to all families in our communities who are in need of baby and children's items. They are open to everyone, but they also work with child and family care agencies to gift items by request to families facing challenging times.

Jaipur Limb
We recently made a donation to the Rotary Jaipur Limb Charity to assist with training costs. Rotary Jaipur Limb's principal activity is the raising of funds in order to finance limb camps and limb centres in Africa, the Indian sub-continent and other areas of the world in need of help, which is achieved through donations from Rotary clubs, Inner Wheel clubs, other organisations and private individuals. In many developing countries there are tens of thousands of people who suffer as a result of amputated or deformed limbs. The causes of this misery are many, but include birth defects, communicable diseases such as leprosy and polio, non-communicable diseases such as vascular disorders and diabetes, snake bites, and traumatic injuries as a result of accidents, natural disasters and armed conflict.

LOCKDOWN 2020 – A Moment in Time
Bishop's Waltham Rotary Club and several of our members have been featured in a new book "LOCKDOWN 2020 – A Moment in Time", 20% of the profits from which will be donated to the charities featured.
The book was the Brainchild of training consultant Martine Bolton and Penny Plimmer, a commercial photographer. It is made up of 67stories with black and white photographs telling of many local people and organisations showing how they were affected by the lockdown and how they have helped others.
We have also still managed to enjoy ourselves and over the last two months or so:
We have had a Zoom wine tasting evening…it took a lot of organising to comply with the rules, but we did it and it was great fun.
We had a Zoom chocolate tasting and talk…less work, someone else organised it and the chocolates arrived in the post.
And several of us also attended a virtual Burn's Night where you got all dressed up, kilt and all, stayed at home and supplied all your own Haggis and Whisky!
Like our Facebook page or take a look at our website for updates on what is going on, what we have been up to and how you can help us help others!
ian.treveil@bishopswalthamrotary.org.uk
--------------------------------------------------------------------------------------------
Bishop's Waltham Rotary Club News…January 2021
Christmas collections & visits updates
Last month we reported that we planned on taking "Roger" our brightly lit and music playing Christmas Steam Engine around the streets to welcome the start of Christmas - regulations allowing! Thankfully, we were able to drive around most of our normal routes with Santa waving from a suitable distance and although we couldn't knock on any doors, we placed a bucket with "Roger" for people to place donations in and combined with electronic and online donations we raised over £1000.00, which will definitely help us support worthy causes that are desperately in need of funds this year.
We were also approached by several of the local schools who asked if we could visit this year with Santa and Roger, because many of their usual events involving people coming into the schools had obviously had to be cancelled, and we could arrive on the playground and keep to a safe distance. We were more than happy to organise these visits for them which raised the spirits in the schools in the run up to Christmas.
We also did a very special trip to the Royal Hampshire County Hospital in Winchester on Christmas Eve, where we were able to park "Roger" with Santa below the Paediatric ward windows and the children could wave and talk to Santa via telephone. This resulted from our President seeing a BBC News report from the ward, where they were explaining that they could not have any special visitors inside the ward this year or put-up decorations etc. We contacted the ward through one of our Rotarians who works at the hospital and they were thrilled at the prospect of a visit.


Roger arriving at St John the Baptist School, Waltham Chase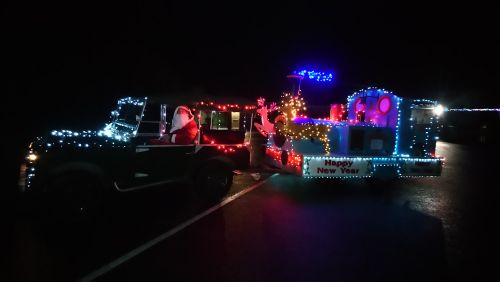 Roger and Santa ready to go round the streets signalling the start of Christmas
Like our Facebook page or take a look at our website for updates on what is going on, what we have been up to and how you can help us help others!
ian.treveil@bishopswalthamrotary.org.uk
------------------------------------------------------------------------------------------------------------------------------------------------------------------------------------
Follow us on YouTube ... new for 2021
https://www.youtube.com/watch?v=HEhSi2FNZAM
Hampshire Hospitals Foundations Trust




Santa has made a special detour from delivering presents this afternoon to visit our hospital in Winchester to speak to some of our younger patients and staff. Santa, who swapped his sleigh and reindeers for a rotary engine train that plays Christmas music and lights up, spoke to some of children and staff over the phone from two floors below to wish them a very merry Christmas! A big thank you to Bishops Waltham Rotary Club for arranging this social distance visit and spreading some more Christmas cheer for all!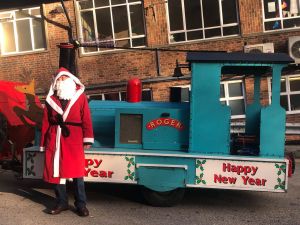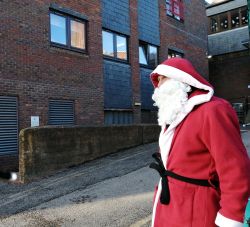 Bishop's Waltham Rotary Club News…December 2020
Not a normal year!
Looking back over the last 6 months press releases, the resounding theme seems to have been that this is not a normal year and how things are different, what has been cancelled and what will not happen! With the announcement that immunisation against Covid 19 will start imminently gives rise to the hope that we may be able to return to some sort of normality and put 2020 behind us and start planning for 2021. With this firmly in mind here is a date for your new 2021 diary:
The Bishop's Waltham Rotary Carnival will not take place at Hoe Road Recreation Ground on Saturday 12th of June 2021, see you 2022
The theme for 2021's Carnival will be "Children's Books", so get your thinking caps on and start planning how you can support us as part of the Carnival Procession by getting dressed up or organising a float depicting a character or scene from your favourite Children's Book.
New Member
Despite things we have managed to induct a new member into our Rotary Club and we welcomed Lynn Dow as our newest member at one of our weekly Club Zoom meetings. It was a bit different not being able to give her our usual sociable warm welcome, over dinner at one of our usual meetings, but we look forward to getting to know her better, and not just on a computer screen at a virtual meeting, as we go into the new year.
New President
Our present President Linda Treveil has put in an extended stint covering an 18-month period as President instead of the usual year. This has not been an easy time, trying to keep things running from a distance, and also having to make some very difficult decisions to cancel some very eagerly anticipated events, and dealing with difficulties and disruptions that our Club has never seen in its thirty plus years.
Due to the disruption to Linda's year, with many of her major events cancelled, the incoming President Mandy Tourle, who should have taken over in July, agreed that Linda would stay on and then Mandy would take over in January and again she would do an 18-month stint. Once Mandy has completed her 18-month run we will then be able to get back to our normal July to June yearly cycle and we have Sara Walker, who will take over in July 2022. ( seen below on the left. ed)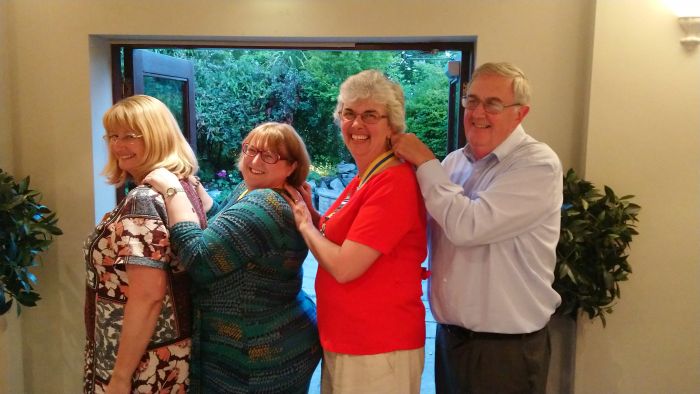 Here is a picture of John Natt our 2018-2019 President handing over his Presidential chain of office to Linda, who is handing over her President Elect chain to Mandy who is handing over her President Nominee chain to Sara.
Like our Facebook page ( link at the top of all pages. ed) or take a look at our website for updates on what is going on, what we have been up to and how you can help us help others!
ian.treveil@bishopswalthamrotary.org.uk
_____________________________________________________________________________________________________________O
Meon Valley Food Bank
Meon Valley Baby Bank