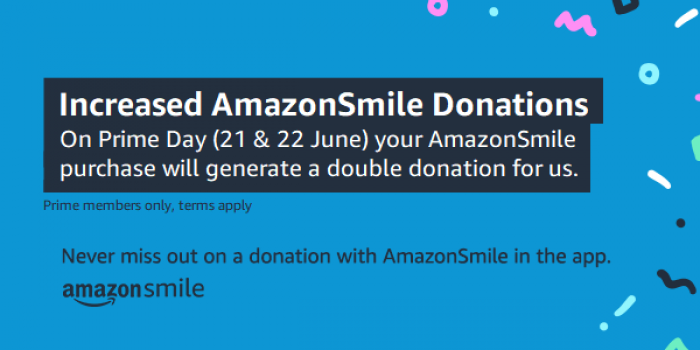 All Prime members who activate AmazonSmile in their Amazon mobile app between now and the end of Prime Day will generate a 10x donation (that's 5%!) on their first AmazonSmile-eligible purchase on Prime Day.
If one of our supporters buys a £500 TV on Prime Day using this special AmazonSmile offer, they will generate a £25 donation for Rotary Club Of Bishop's Waltham Charity Trust Fund, at no cost to you or them!
---
Prime members who shop Amazon Prime Day deals from 21st – 22nd June can do more than discover great deals:
Simply shop at smile.amazon.co.uk/ch/1032602-0 or with AmazonSmile ON in the Amazon Shopping app, and AmazonSmile will DOUBLE donations to Rotary Club Of Bishop's Waltham Charity Trust Fund at no extra cost.
-----------------------------------------------------------------------------------------------------------------------------------------------------------------------------------------------
Bishop's Waltham Rotary Club News… May 2021
As I write this the UK is steadily moving towards some sort of normality with restrictions being lifted and numbers of Covid infections tumbling to levels we have not seen for many months. Although this is the case in the UK other areas of the globe are being hit by exponentially rising numbers of patients.
We have seen on the news the desperate situation in India with families queuing outside the many government hospitals where treatment is free. Rotary in the UK, and indeed our own club, have had close links with the Rotary Clubs in India for many years and we have collaborated on many projects together improving healthcare and providing education in the most deprived areas. We have also had members of our club travel to India as part of the national Polio Immunisation effort in support of Rotary International's End Polio Now campaign.
Due to these links many close friendships and working relationships have been made which have enabled direct communication with the local Rotarians who are helping the Government Hospitals in India to access the much-needed medical equipment. Through direct communication with a former Rotary District Governor in Kerala, India, it has been possible to get first-hand information from the Government Staff Doctors of what equipment would be of best use. What they have told us they are desperate for, and what will help them to assist the most patients and in the best way, is a Bipap (Bilevel positive airway pressure) machine which is a type of ventilator which assists the patients breathing and aids the exchange of oxygen.
In response to this need, Bishop's Waltham Rotary Club have donated just over £730.00 to purchase one of these devices which will be delivered directly to where it is needed the most through the local Rotary Clubs in India.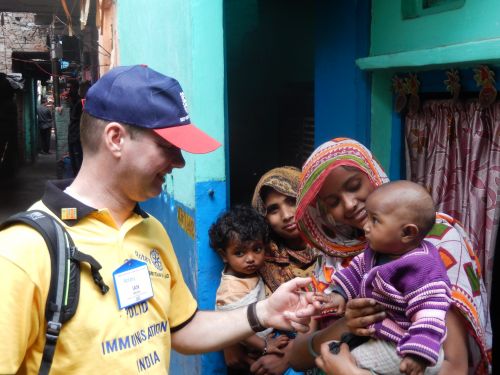 Rotarian Ian Treveil (the author) making friends in the "concentrations" of Delhi.

If you would like to make a donation to help us help others, you can go to our website and click on the donate button in the top header.
Like our Facebook page or take a look at our website for updates on what is going on, what we have been up to and how you can help us help others!
ian.treveil@bishopswalthamrotary.org.uk
________________________________________________________________________________________________________________________
Bishop's Waltham Rotary Club News… April 2021
Coming out of Lockdown & Fundraising
As an end to lockdown gets closer and we can start to resume many of our normal activities, we, as a club, are looking forward to being able to meet up in person, rather than via a computer screen. Although we have managed to keep things running over the last year with zoom meetings discussing ongoing business and charitable giving. We have also managed to have speakers, remote progressive suppers & wine tastings (although a wine tasting where the wine is delivered to your door and there are no arguments over who is driving worked remarkably well!). As many of you will appreciate it is not the same as being face to face and we are looking forward to returning to weekly meetings at our usual venue, East Horton Golf Course, once restrictions allow! If you would like to get involved, or find out more, get in contact via the details below or through our website.
The last 12 months or so have been a very difficult time for all of us, and we as a club have had many requests for assistance. Unfortunately, we have not been able to help as many people as we would want to due to our limited available funding and have had to consider very carefully all requests for assistance. Over the 3 years running up to the initial pandemic lockdown we averaged a charitable income of approximately £24,000 which we then distributed to worthy causes within our local area as well as some national and international projects. Our charitable income primarily comes from our ever-successful Bishop's Waltham Carnival, our eagerly anticipated Christmas collections with Santa and "Roger" the steam engine, plus other special charity events we organise such as fashion shows, classic car rallies and wine tastings. Obviously, all of these events have had to be cancelled this year and our income has dropped to £6,500, with some of this made up of contributions from our club's own membership. So far this year we have donated £7,000 to mostly local worthy causes, but we need to fund raise to donate and because of this we hope, subject to restrictions at the time, to mark the date that we would normally hold the Bishop's Waltham Carnival with a fund-raising day in Bishop's Waltham. So, look out for your local Rotarians on the second Saturday in June when we hope to be out and about in Bishop's Waltham with our collecting buckets trying to raise funds so that we can help as many people as possible!
If you would like to make a donation now you can always go to our website and click on the donate button in the top header. We are ever hopeful that later in the year we will be able to relaunch our usual fundraising events and start planning for the future.
Like our Facebook page or take a look at our website for updates on what is going on, what we have been up to and how you can help us help others!
----------------------------------------------------------------------------------------------------------------------------------------------------------------------------------------
Bishop's Waltham Rotary Club News… March 2021
STOP PRESS……
Unfortunately, after lengthy discussions we have had to make the exceedingly difficult decision to cancel Bishop's Waltham Rotary Club Carnival for 2021. Despite the Governments Roadmap indicating that such an event could occur later in the year, there is so much organisation and financial outlay that occurs before the event that any uncertainty makes cancelling the right decision. BUT watch this space for news of next years carnival which we want to make bigger and better than ever.
Rotary Crocuses
Many of you will have seen the amazing displays of spring flowers including the Rotary Roundels in purple crocuses, which we planted to celebrate Africa being declared Polio free in August of last year.
The purple crocus is a symbol of the purple dye which is used to mark the little finger of all children given the Polio vaccine – known as the "Purple Pinkie". Since 1985, Rotary's key humanitarian priority has been to rid the world of polio. Polio is a virus which affects children under five and causes paralysis and even death. Rotary spearheaded the campaign at a time when there were over 1,000 cases a day in 125 countries.
Today, thanks to the tireless efforts of Rotary members and our partners, the number of cases are down by 99.9% and just a handful remain. Health worker training and vaccination programmes are essential to ensure the world is declared polio-free. Much of the infrastructure built up as a result of Rotary's End Polio Now campaign is being utilised across the world to tackle other diseases such as Covid 19.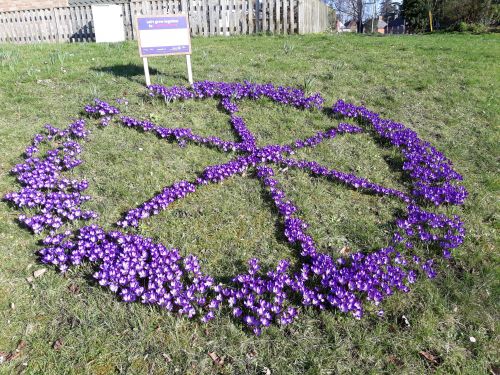 Rotary Crocus Roundel at Hoe Road Roundabout Bishop's Waltham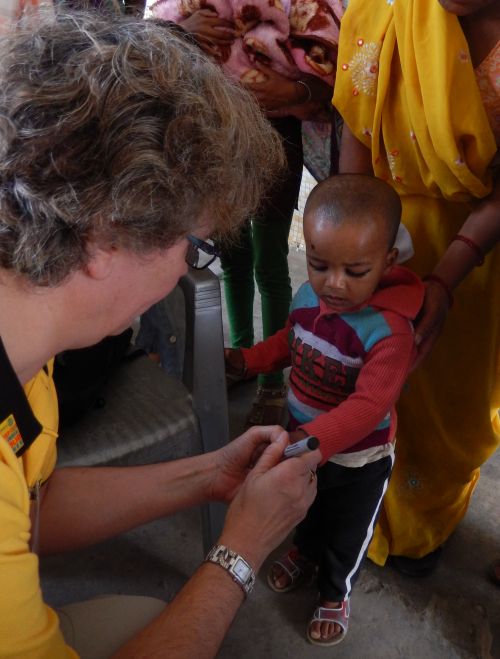 Former Club President Linda, giving a small child their "Purple Pinkie" after giving them the Polio Vaccine in India



Meon Valley Baby Bank update
Just a quick update on things with the Meon Valley Baby bank, thanks to ours and several other donations, and despite delays due to Covid restrictions they now have their "shed" which will be their permanent home once fully set up. Since they opened in November, they have supported 14 families and sent out 17 gift parcels and word is beginning to spread so they are getting busier as time goes on.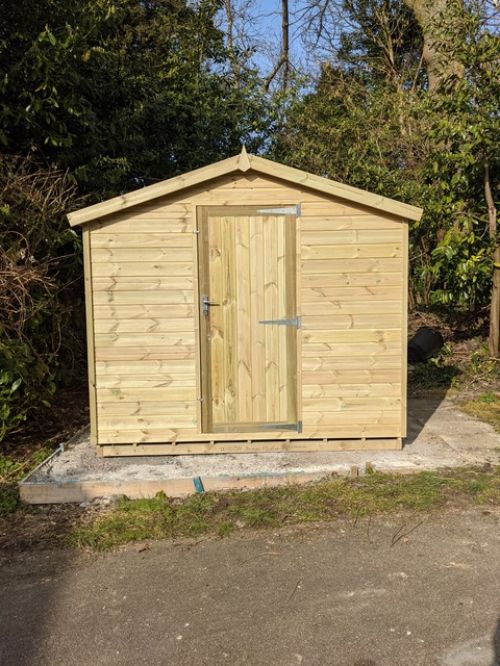 Meon Valley Baby Bank Shed

Like our Facebook page or take a look at our website for updates on what is going on, what we have been up to and how you can help us help others!
-----------------------------------------------------------------------------------------------------------------------------------------------------------------------------------------
Bishop's Waltham Rotary Club News…February 2021
Bishop's Waltham Food Bank
Over the last 2 years or more we have been supporting the Meon Valley Food Bank, on a monthly basis, providing them with food and sundries as necessary. The Meon Valley Food Bank was set up in 2015 and to date has helped over 3000 adults and children in what were already difficult times but are now even more so. They were set up to support the villages of the Meon Valley which include Bishops Waltham, Swanmore, Waltham Chase, Droxford, West Meon, Wickham and Knowle together with other villages in the surrounding area.

Bishop's Waltham Baby Bank
We were happy to be able to help the Meon Valley Baby Bank with funds towards setting up a permanent site in Bishop's Waltham. The Meon Valley Baby Bank is a new, church-led organisation offering help to all families in our communities who are in need of baby and children's items. They are open to everyone, but they also work with child and family care agencies to gift items by request to families facing challenging times.

Jaipur Limb
We recently made a donation to the Rotary Jaipur Limb Charity to assist with training costs. Rotary Jaipur Limb's principal activity is the raising of funds in order to finance limb camps and limb centres in Africa, the Indian sub-continent and other areas of the world in need of help, which is achieved through donations from Rotary clubs, Inner Wheel clubs, other organisations and private individuals. In many developing countries there are tens of thousands of people who suffer as a result of amputated or deformed limbs. The causes of this misery are many but include birth defects, communicable diseases such as leprosy and polio, non-communicable diseases such as vascular disorders and diabetes, snake bites, and traumatic injuries as a result of accidents, natural disasters and armed conflict.

LOCKDOWN 2020 – A Moment in Time
Bishop's Waltham Rotary Club and several of our members have been featured in a new book "LOCKDOWN 2020 – A Moment in Time", 20% of the profits from which will be donated to the charities featured.
The book was the Brainchild of training consultant Martine Bolton and Penny Plimmer, a commercial photographer. It is made up of 67stories with black and white photographs telling of many local people and organisations showing how they were affected by the lockdown and how they have helped others.
We have also still managed to enjoy ourselves and over the last two months or so:
We have had a Zoom wine tasting evening…it took a lot of organising to comply with the rules, but we did it and it was great fun.
We had a Zoom chocolate tasting and talk…less work, someone else organised it and the chocolates arrived in the post.
And several of us also attended a virtual Burn's Night where you got all dressed up, kilt and all, stayed at home and supplied all your own Haggis and Whisky!
Like our Facebook page or take a look at our website for updates on what is going on, what we have been up to and how you can help us help others!
ian.treveil@bishopswalthamrotary.org.uk
--------------------------------------------------------------------------------------------
Bishop's Waltham Rotary Club News…January 2021
Christmas collections & visits updates
Last month we reported that we planned on taking "Roger" our brightly lit and music playing Christmas Steam Engine around the streets to welcome the start of Christmas - regulations allowing! Thankfully, we were able to drive around most of our normal routes with Santa waving from a suitable distance and although we couldn't knock on any doors, we placed a bucket with "Roger" for people to place donations in and combined with electronic and online donations we raised over £1000.00, which will definitely help us support worthy causes that are desperately in need of funds this year.
We were also approached by several of the local schools who asked if we could visit this year with Santa and Roger, because many of their usual events involving people coming into the schools had obviously had to be cancelled, and we could arrive on the playground and keep to a safe distance. We were more than happy to organise these visits for them which raised the spirits in the schools in the run-up to Christmas.
We also made a very special trip to the Royal Hampshire County Hospital in Winchester on Christmas Eve, where we were able to park "Roger" with Santa below the Paediatric ward windows and the children could wave and talk to Santa via telephone. This resulted from our President seeing a BBC News report from the ward, where they were explaining that they could not have any special visitors inside the ward this year or put-up decorations etc. We contacted the ward through one of our Rotarians who works at the hospital and they were thrilled at the prospect of a visit.


Roger arriving at St John the Baptist School, Waltham Chase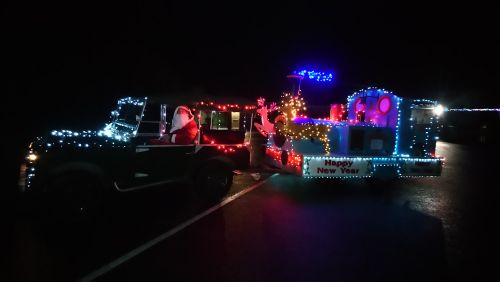 Roger and Santa ready to go round the streets signalling the start of Christmas
Like our Facebook page or take a look at our website for updates on what is going on, what we have been up to and how you can help us help others!
ian.treveil@bishopswalthamrotary.org.uk
------------------------------------------------------------------------------------------------------------------------------------------------------------------------------------