Handover of President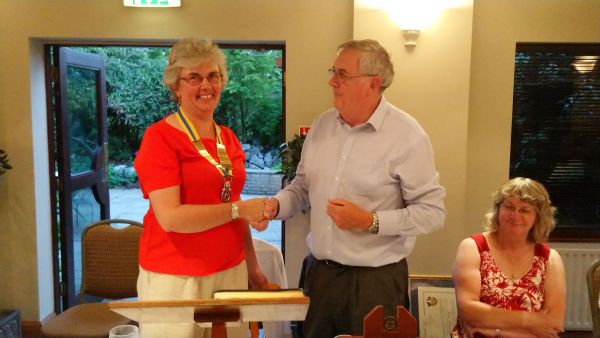 Its the end of President John's year so he hands over his chain of office to Linda Treveil, she in turn hands her chain to Mandy Tourle who also presents hers to Sara Walker who will be eventually President in 2021. What a cheerful group AND mostly ladies!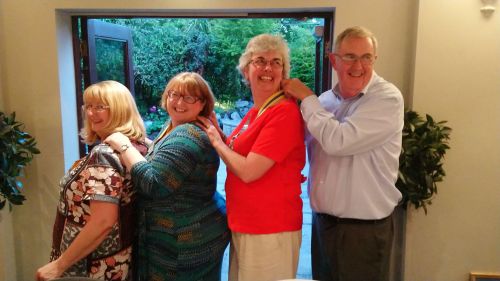 Tour of Legends. How the day started and ended!
Saturday the 15th June saw 42 classic Cars meet at the Alma Inn, at Lower Upham at 08.15 then drive to Bill Rawles Classic Car repair garage and Showroom for a light breakfast. It was then onto Winchester Cathedral where for an hour the Cars were displayed in front of the building. Next was lunch at West Wellow Golf Club via Romsey town centre then onto Salisbury Cathedral where the cars were displayed with great comments from visitors. All left for home at 16.30 after a really great day!
The result was, from the drivers ' can we do it again next year' and the Rotary coffers raising £3000 ! An all round success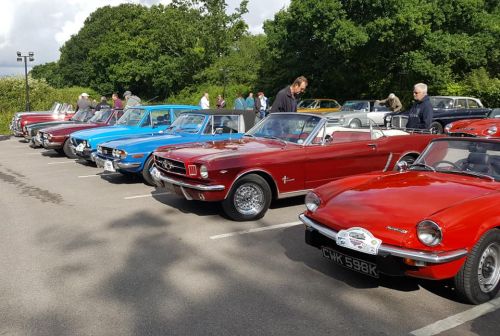 Waiting with anticipation at The Alma Inn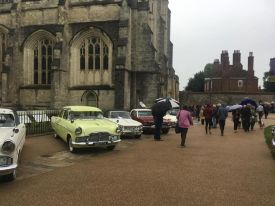 Outside of the Winchester Cathedral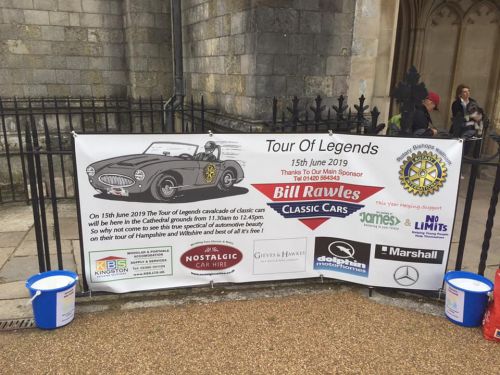 One of the banners detailing our sponsors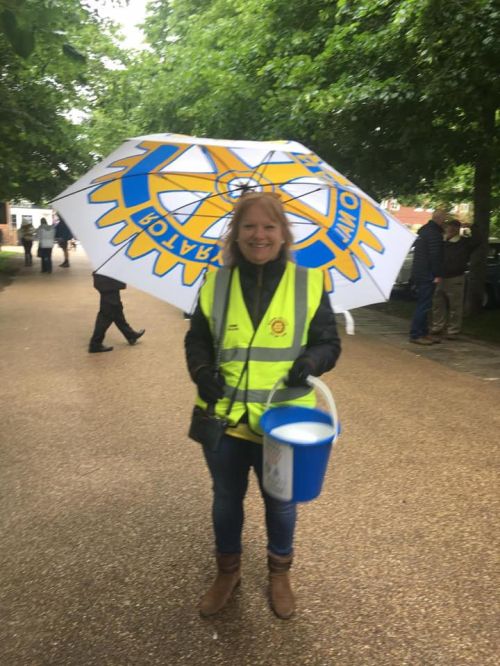 One of the many the Bishop Waltham Mashals

Lunch Line up at Wellow Golf Club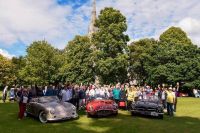 All; arrived safely with Salisbury Cathedral as a backdrop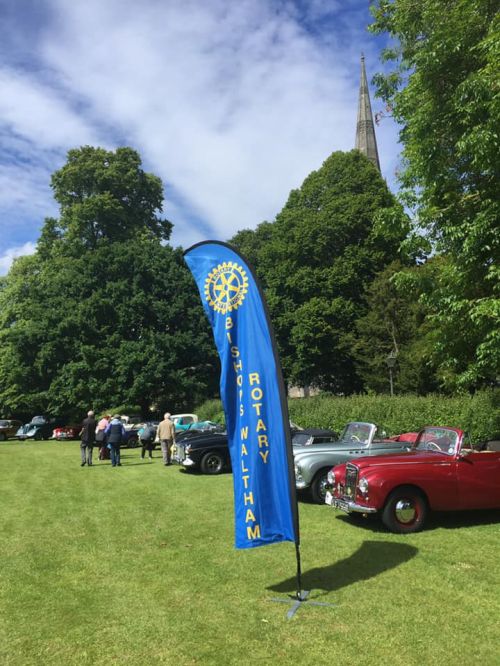 Another shot of the Cars and Cathedral
---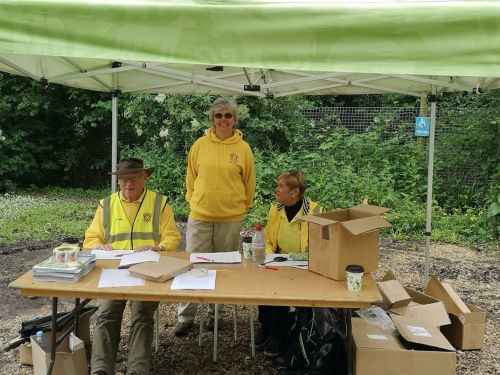 KIDS OUT DAY AT MARWELL: REGISTRATION DESK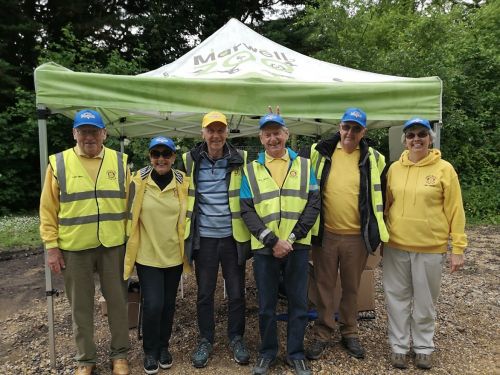 KIDS OUT TEAM AT MARWELL TEAM PHOTO(NO RAIN...YET)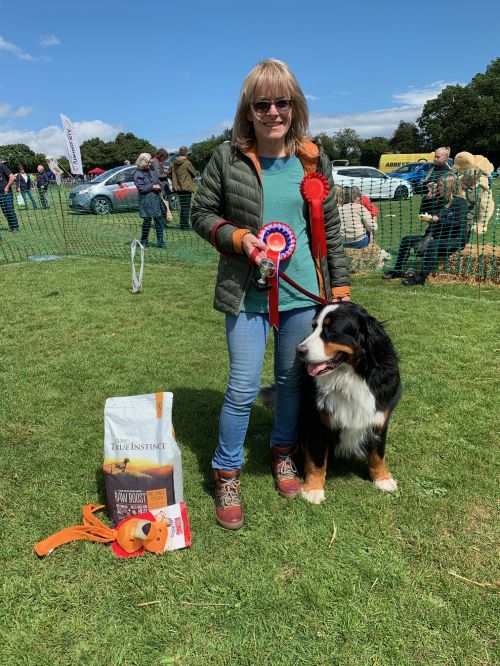 The Carnival was again a great success, despite the weather.
The Batala drum band woke the town up at around 11.30. The classic cars and motor bikes came through the town, followed by the Procession of Scouts, Youth Club, Junior and Infant schools, Town Team, Dynamos and Fire Engine.
Sadly, the Fullers Dray, which is provided each year by Fullers, broke down in the High Street and delayed the Procession a little.
We owe so much to the local traders who have put themselves out
for us, repeatedly providing support and donations to the Carnival cause: thank you.
Prizes were awarded to the Scouts for their Procession entry of Apollo 11, and runners up, the Youth club, for their portrayal of the Sixties. ( see pictures below)
Best shops displays were awarded to Tashinga and Luvvit. ( see Pictures)
The Best in Show dog is a 3 year old Burmese Mountain Dog ( see left) rescued by her owner Gill Watkins via the Burmese Welfare Dogs Home Gill has had her for around 20 months and has worked hard in getting Coco socialised and now she has come on so well that she has become a "Pets as Therapy" dog visiting hospitals and Old People's homes.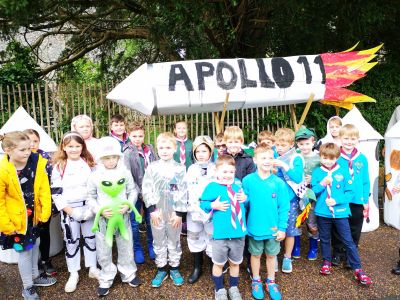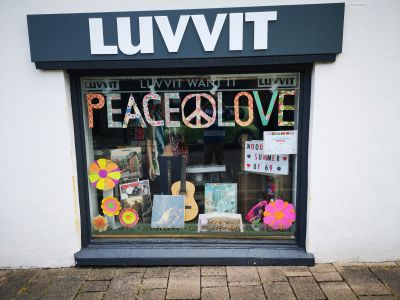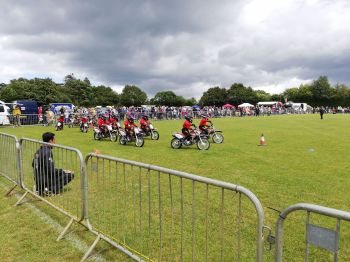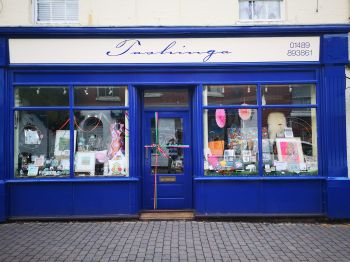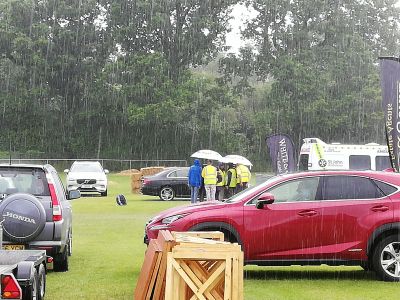 ---