CARNIVAL & SHOW Saturday 13th June, 2020 this was cancelled but we were looking forward to be back in 2022!
We hope to be able to go ahead with our Carnival next year and will be carrying over our theme from 2020.
H in fancy dress, make a creative mask, hat, decorated umbrellas, faces painted or even a theme decorated trolley, go cart, wheel barrow or bicycle or even make a Main Banner, individual banner or flags.
Meeting place on the day is Bishops Waltham Square from 11.30am. Procession commences 12 noon.
Fancy Dress Also a Bonus if you are in Fancy Dress in the Procession you get into the Show free.
Want to know more, contact Paul Chesterman email paulchesterman1@gmail.com
Call 01489 797309.
.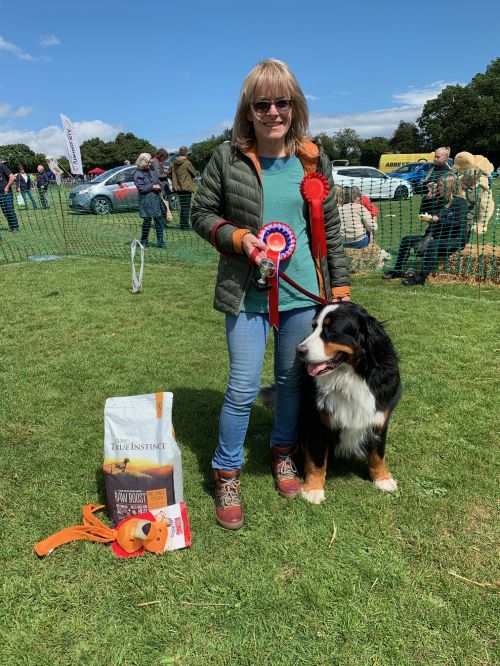 Library Picture Carnival 2019
Great day for all the family with our 'Children's Books' theme.
The day will start with the Carnival Procession from 11.30am in the High Street,
then the Show takes place at Hoe Road Recreation Ground from 1pm to 5pm
with a Food & Drink village, Live Music & Entertainment, Arena Show, Classic
cars and bikes, children's entertainment, story tellers plus the ever popular Dog Show
and over 50 stalls and lots more.
All information subject to change
Carnival Picture 2019
The Carnival was again a great success, despite the weather.
The Batala drum band woke the town up at around 11.30. The classic cars and motor bikes came through the town, followed by the Procession of Scouts, Youth Club, Junior and Infant schools, Town Team, Dynamos and Fire Engine.
Sadly, the Fullers Dray, which is provided each year by Fullers, broke down in the High Street and delayed the Procession a little.
We owe so much to the local traders who have put themselves out
for us, repeatedly providing support and donations to the Carnival cause: thank you.
Prizes were awarded to the Scouts for their Procession entry of Apollo 11, and runners up, the Youth club, for their portrayal of the Sixties. ( see pictures below)
Best shops displays were awarded to Tashinga and Luvvit. ( see Pictures)
The Best in Show dog is a 3 year old Burmese Mountain Dog ( see left) rescued by her owner Gill Watkins via the Burmese Welfare Dogs Home Gill has had her for around 20 months and has worked hard in getting Coco socialised and now she has come on so well that she has become a "Pets as Therapy" dog visiting hospitals and Old People's homes.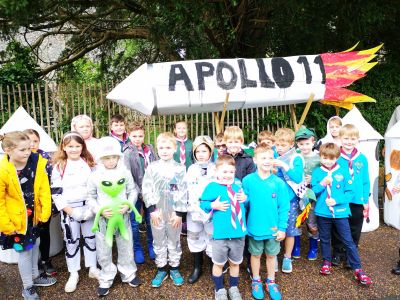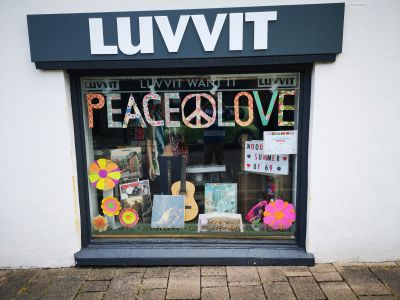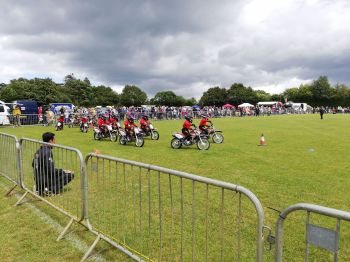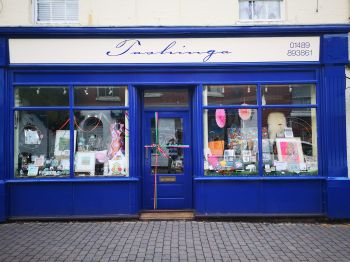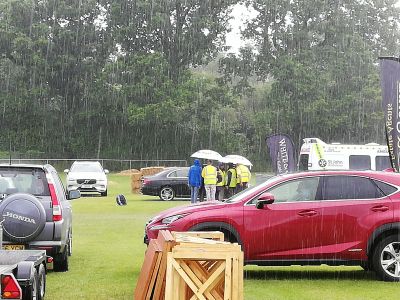 For pictures and report go to the news page or click here
More information on News Page follow link by clicking here
Help make this year's Carnival the best yet and join the Procession either as an Individual, Group or Organisation in this year's Theme 'Childrens Books'. Come in fancy dress, make a creative mask, hat, decorated umbrellas, faces painted or even a theme decorated trolley, go cart, wheel barrow or bicycle or even make a Main Banner, individual banner or flags. Only those in costume gain free entry to the showground Meeting place on the day is Bishops Waltham Square from 11.30am. Procession commences 12 noon. Also a Bonus if you are in Fancy Dress in the Procession you get into the Show free. Want to know more, contact Paul Chesterman email paulchesterman1@gmail.com or